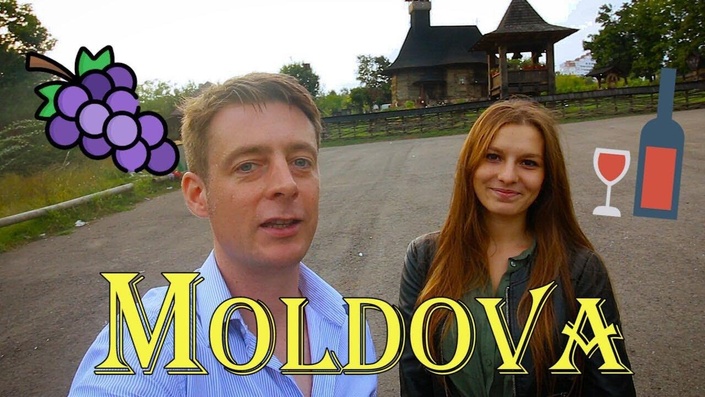 Slavic Utopia Secrets: Moldova
Learn how to relocate yourself to Moldova and maximize your potential quality of life!
From: Conor Clyne
Dear friend,
Over the last 2 years, I have received scores of enquiries about how to successfully move to Moldova, be that from the comments under my YouTube videos, private emails, the participants on my bootcamps or my one-on-one clients who live the Tsar Experience with me.
I'm sure that you'd agree with me that Moldova has a lot to offer the right kind of guy as a place to live in terms of quality of life. For example, imagine having access to high standards of living while still located in Europe for a fraction of the cost surrounded by beautiful women. Sound like it's for you? 😀
You're probably already aware that Moldova offers many foreigners the opportunity to come visit the country visa free for up to 90 days every 180. But what happens when you would like to stay longer than your 90 days?

This was a problem that an Italian friend of mine faced when they wanted to live in Chișinău for 3 months straight. He didn't want to be under pressure to leave so soon as he was enjoying himself so much. 😉

He kept exiting Moldova every few months but when he wanted to return immediately he faced many issues getting back in the country including confrontations with unfriendly border guards.
So much stress and hassle!
What they really needed was legal residency in Moldova so they could stay as long as they felt each year but ...
What visa did they need? How do you get that organized without speaking Romanian or Russian or understanding the legal system?

They needed an optimal visa strategy for staying in Moldova.
Do you really own your investment?
Imagine you purchase the perfect apartment with views over central Chișinău. You spend the best part of the year renovating it all while doubling your investment in the property because it's where you plan to spend much of your time for the next 20 years.
Then suddenly one day, you get a knock on the door and some policemen tell you that you are in fact trespassing in the apartment of a babushka.
Make sure you own legal title to your apartment and not the neighboring grandma!
That said real estate is a mere fraction of the cost in Moldova compared to North America or Western Europe, you can indeed 5x or even 10x what you can afford back home.
Sound attractive to you?
With a researched real estate investment plan, you'll be able to relax in your property and actually have confidence that YOU really own your amazing Chișinău penthouse or Moldovan vineyard ...

I don't wannabe alone!
When I first started traveling to Eastern Europe over 10 years ago, I was a solo traveler. I had zero contacts in the region.
That part sucked ...
Eastern Europe was indeed amazing but it's no fun being Billy No-Mates day after day, especially if you are staying for months.
Now it's fine when you are on dates with the pretty girls, but none of us are actually doing that 24/7. We all need a network!

It's even tougher when you have a language barrier to overcome, are dealing with frustrating bureaucracy or even that you get ill ... everyone clearly needs a group of like-minded buddies nearby.
I even know one foreigner living in neighboring Ukraine who has given up on dating women, has no local friends and doesn't speak Russian or Ukrainian.
He often looks depressed ... You don't want to end being Billy No-Mates in Moldova either!
A few years ago back home, I met a guy from Ukraine through a friend and he told me that next time I arrive back, I must contact his Russian-speaking foreign friends in his home city.
I followed up and discovered that these contacts of his were super connected in the Eastern European social and business world.
This was a game changer!
These guys became close friends. They introduced me to their friends (some of whom were also super hot chicks). They showed me the ins-and-outs of life in Eastern Europe.
In the end, we humans are social creatures and I know that if anything were to happen, I now have a local number to call.
Building a network of local and expats friends is vital to a successful move, as is a strategy for overcoming the language barrier ...

During the last 10 years, I have traveled all over Moldova, to cities like Chișinău, Bălți, Tiraspol, Orhei Vechi and Soroca. Much of this I've documented in the videos on my YouTube channel.
Along the way, I've encountered many of the same challenges that you will face in moving here. I thoroughly believe that the rewards definitely outweigh the downsides as long as you have the right plan in place.
To overcome these same obstacles, I have created a network of contacts to solve the biggest problems faced by foreigners moving to Moldova.
Now I want to open up those solutions to you as well so I've created an exclusive 6-week group consultation program for high level guys who want to relocate to Moldova for 3-12 months per year.
It's called Slavic Utopia Secrets: Moldova.
Are you onboard with us?
Here is what you will learn on these 7 group consultation calls:
Everything you need to know before moving to Moldova (including Transnistria) so that you can avoid the pitfalls all while enjoying a cost of living that is 20% of cities like NYC, London or Paris surrounded by scores of beautiful women;
How to create an optimal visa strategy for the legal right to stay in Moldova for as long as you want so you don't have to worry about problems entering and leaving Moldova as you please;
How to adapt to the local culture and make friends (both Moldovan and expats) so that you are never alone living there;
How to network with other like-minded businessmen to create profitable opportunities and minimize the endemic cost of corruption;
My strategies for overcoming the language barrier, so that you can so that you can integrate better in daily life and not be taken advantage of by unscrupulous locals who exploit the language gap with foreigners;
All about the healthcare options in Moldova so that you are not left without access to the best medical care should something unfortunately happen to you; and
To master the intricacies of the Moldovan real estate market so that you make the highest returns on your property investments and/or can buy your dream Chișinău penthouse or a vineyard by a Moldovan lake.
The following is what's included in Slavic Utopia Secrets: Moldova:
Invitation to the next series of 7 live Q&A sessions over Zoom where you'll get to ask me personally all your burning questions about relocating to Moldova (value: US$997)

7 online masterclasses featuring a presentation module outlining the essential basics of what you need to know for a move to Moldova (value: US$497)
Lifetime access to all the recordings so that you can access them anywhere, anytime and at your own pace as often as you need (PRICELESS)
Bonus 1: One hour consulting with me to help you with your move to Moldova when the time comes (value: US$450)
Bonus 2: Exclusive Facebook group with like-minded guys who are also planning to move to Moldova (value: US$500)
Bonus 3: Unlimited WhatsApp messaging with me (text & voice) for the 6-week duration of the program (value: US$500)
Bonus 4: Let's Move to Moldova! relocation guide, including the Utopia Moldova Gold List of recommended professionals in Ukraine (value: US$297)
Bonus 5: Utopia Moldova Alumni Annual Event Invitation (value: PRICELESS)
Total Value: US$3,241
Offer Price: US$997